90% of Property Guardians were accommodated in the same property for over 6 months, according to the first industry census.
Key Findings
90% of Property Guardians were accommodated in same property for 6 months or more
1 in 4 Property Guardians have been in the same accommodation for over 18 months
25% of Guardians are in their thirties
Over 60% paid less than £500 a month in license fees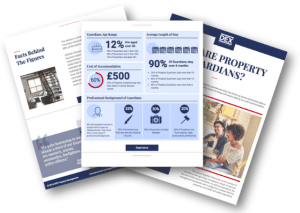 [button url="https://www.dexpropertymanagement.co.uk/wp-content/uploads/2018/12/Infographic-Who-Are-Property-Guardians.pdf" text="Click for Infographic"]
Compiled from data supplied by the leading Property Guardian Providers, the census supplies information on the number of Guardians, their age range, occupations, length of stay and the cost of their accommodation, as well the spend the management companies had to budget for, to ensure the properties met health and safety regulations.
The census found that 1 in 4 Guardians remained in the same property for over 18 months. 60% of Property Guardians resided in their accommodation for over a year and 89% stayed for at least 6 months.
Despite the opinion that Property Guardianship is predominantly targeted at millennials the census data indicates that 12% of Guardians are actually in the forties. Whilst the largest proportion of Guardians (45%) were in their twenties a further quarter were in their thirties.
In terms of occupations, those working in the arts and creative industries form 35% of guardians, whilst key workers are the next biggest employment group, with 30%, and one in five (20%) are from the medical, accountancy or legal professions.
The majority of guardians (60%) paid less than £500 a month for their accommodation, 20% paid £500-£700 a month, 15% £700-£900 a month and only 5% paid more than £900.
[button url="https://www.dexpropertymanagement.co.uk/wp-content/uploads/2018/12/Infographic-Who-Are-Property-Guardians.pdf" text="Click for Infographic"]