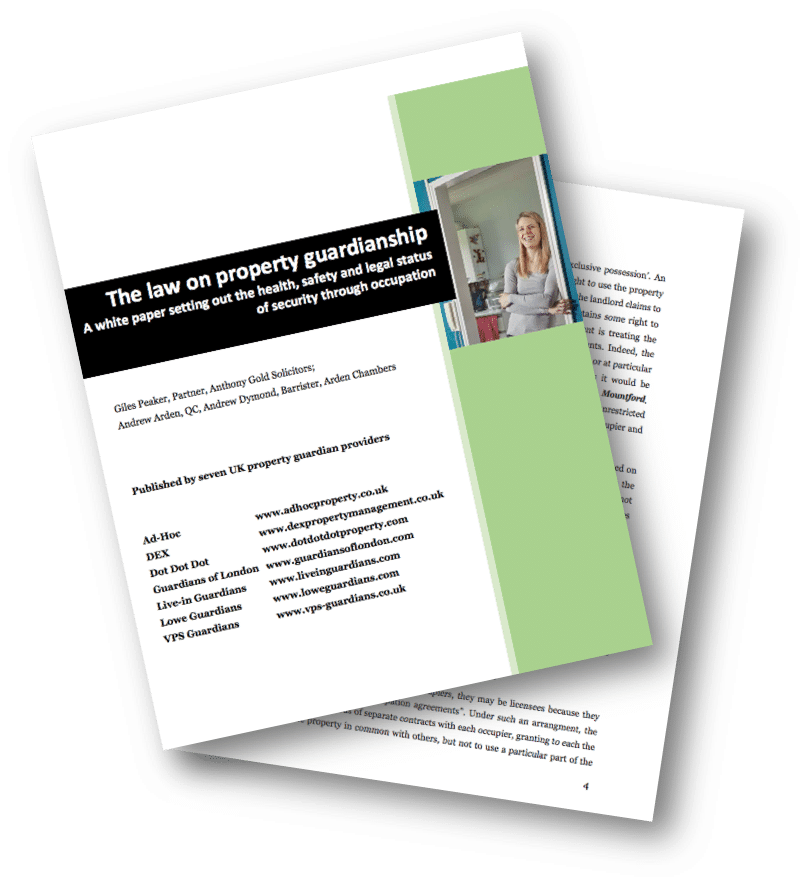 A white paper published today sets out the legal & safety obligations for guardians and property owners. It has been issued by the UK's seven leading property guardian companies to drive up standards, and to help inform and safeguard the interests of both property owners and guardians.
'The Law on Property Guardians' details the current legal status for guardians, the compliance requirements and the health and safety obligations that providers of property guardian schemes must meet. Written by a prominent, independent legal team, comprising a leading housing lawyer, a QC and a barrister, the white paper sets out to ensure better practice in the industry through a minimum common standard.
"The group has been meeting during the year to set up a Property Guardian Providers' Association" explains Graham Sievers, spokesman for the group. "First, the providers wanted to benchmark what is the current legal status of a guardian, and what the obligations are for the owners or management companies for premises being used to house guardians. This document, we hope, will help inform all stakeholders and support our aim to promote best practice across the industry, advocating that all legal and safety standards and regulations are adhered to, or exceeded, by property guardian providers."
"Essentially, we want to ensure that running a property guardians' programme not only provides one means, albeit very small, to alleviate the pressure on housing, but does so ethically and safely." Mr. Sievers concludes.
Three key points emerging from it are:
Health and safety requirements apply to all buildings where Property Guardians live, whether they are commercial, residential or other types.
Fire safety, gas safety and any potential on-site hazards fall under the same regulations as tenants and are enforceable by the same authorities.
Property guardians sign-up as licensees, not tenants; two of the key differences include non-exclusive occupation of the premises and shorter notices to leave. In return, guardians live in low-cost accommodation.
The group commissioned top housing lawyer, Giles Peaker, and a principal QC and barrister-in-law from Arden Chambers, Andrew Arden and Andrew Dymond.
Property guardian companies match up property owners who have temporarily empty vacant properties on their hands, with people seeking low cost accommodation, but who can be flexible in their stay. Often, such properties' living costs are around half that of similar accommodation in the private rental sector.
[button url="https://www.dexpropertymanagement.co.uk/wp-content/uploads/2018/10/Property-Guardians-White-Paper-November-2017-071117v2-1.pdf" text="Download White Paper"]